Articles | Volume 33, issue 4
https://doi.org/10.5194/ejm-33-357-2021
© Author(s) 2021. This work is distributed under
the Creative Commons Attribution 4.0 License.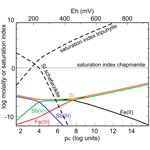 Chapmanite [Fe2Sb(Si2O5)O3(OH)]: thermodynamic properties and formation in low-temperature environments
In this work, we have determined or evaluated thermodynamic properties of synthetic Sb2O5, MgSb2O6 (analogue of the mineral byströmite), Mg[Sb(OH)6]2⋅6H2O (brandholzite), and natural chapmanite [(Fe1.88Al0.12)Sb(Si2O5)O3(OH)]. Enthalpies of reactions, including formation enthalpies, were evaluated using reference compounds Sb, Sb2O3, Sb2O5, and other phases, with high-temperature oxide melt solution calorimetry in lead borate and sodium molybdate solvents. Heat capacity and entropy were determined by relaxation and differential scanning calorimetry. The best set of ΔfHo (kJ mol−1) and So (J mol−1 K−1) is byströmite , 139.3±1.0; brandholzite , 571.0±4.0; and chapmanite , 305.1±2.1. The data for chapmanite give ΔfGo of  kJ mol−1 and for the dissolution reaction (Fe1.88Al0.12)Sb(Si2O5)O3(OH) + 6H 1.88Fe3+ + 0.12Al3+ + 2SiO + Sb(OH) + 2H2O. Analysis of the data showed that chapmanite is finely balanced in terms of its stability with schafarzikite (FeSb2O4) and tripuhyite (FeSbO4) under a specific, narrow range of conditions when both aqueous Fe(III) and Sb(III) are abundant. In such a model, chapmanite is metastable by a narrow margin but could be stabilized by high SiO(aq) activities. Natural assemblages of chapmanite commonly contain abundant amorphous silica, suggesting that this mechanism may be indeed responsible for the formation of chapmanite. Chapmanite probably forms during low-temperature hydrothermal overprint of pre-existing Sb ores under moderately reducing conditions; the slightly elevated temperatures may help to overcome the kinetic barrier for its crystallization. During weathering, sheet silicates may adsorb Sb3+ in tridentate hexanuclear fashion, thus exposing their chapmanite-like surfaces to the surrounding aqueous environment. Formation of chapmanite, as many other sheet silicates, under ambient conditions, is unlikely.
Received: 18 Mar 2021 – Revised: 01 Jun 2021 – Accepted: 04 Jun 2021 – Published: 02 Jul 2021
Antimony is an element that enters into both quite soluble and quite insoluble minerals as it moves through the aqueous environment. The solubility of such reservoirs was previously quantified by Filella and May (2003), Diemar et al. (2009), Leverett et al. (2012), Roper et al. (2015), and others using thermodynamic data. The discrepancies between the observations of antimony being soluble at some sites but insoluble at other ones were addressed and resolved by Majzlan et al. (2016). The rich mineralogy of antimony was extensively summarized by Majzlan (2021), and the details will not be repeated here.
Two insoluble minerals, considered to be the "ultimate sinks" of antimony, are tripuhyite (FeSb5+O4) and schafarzikite (FeSbO4) (Leverett et al., 2012). Tripuhyite has been identified at a number of sites polluted by Sb (see Majzlan, 2021), but schafarzikite is rare, restricted to a few localities where it seems to be primary and not secondary (e.g., Sejkora et al., 2007). Its rarity could be explained by the scarcity of research in reduced environments because most of the work at the polluted sites is concentrating on their oxidized portions. They are believed to release toxic elements, such as antimony, into the environment. An alternative explanation is that schafarzikite does not form since its nucleation and growth is kinetically hindered. Another possibility is that there is a competing phase or phases that scavenge antimony under such conditions. Iron oxides, the usual scavengers of many anions, are not good candidates, as they may undergo reductive dissolution under such conditions. On the other hand, it has been shown that during reduction–oxidation cycles antimony adsorbed onto goethite will be locked into tripuhyite and not into the structure of schafarzikite (Burton et al., 2020).
The aim of this work is to evaluate the thermodynamic stability of chapmanite, a rare mineral that could, however, constitute an alternative sink of antimony in slightly reducing environments. To this goal, first we verified the methodology of high-temperature oxide melt solution calorimetry in molten lead borate on antimony phases, doing a number of cross-checks. Once assured that this method can yield accurate and precise data, the enthalpy of formation of chapmanite was measured. Entropy was obtained by integration of low-temperature heat capacity data measured by relaxation calorimetry. Calculations of stability and solubility of chapmanite in selected exemplary systems document its possible role in the environment.
Throughout this paper, the phases investigated can be referred to by their mineral names. In their synthetic form, they are equivalents of the naturally occurring minerals. The use of these names improves the clarity of the presentation because a mineral name is linked not only to a specific chemical composition, but also to a crystal structure. It is particularly advantageous in systems with polymorphism, such as among the antimony oxides. The chemical formulae and mineral names of the phases considered in this paper are summarized in Table 1.
Synthetic Sb2O3 (equivalent of valentinite) and Sb2O5 were purchased from suppliers and used as received. Sb2O4 (equivalent of cervantite) was synthesized by treatment of Sb2O3 at 700 ∘C for 1 d (Konopik and Zwiauer, 1952). Powdery Sb2O3 was placed into a platinum crucible, covered by a platinum lid and heated in air. In contrast to the results of Konopik and Zwiauer (1952), we found that prolonged heat treatment does not lead to better crystallinity or phase purity but to amorphization of the sample.
Crystals of Mg[Sb(OH)6]2⋅6H2O (equivalent of brandholzite) were synthesized according to the procedure of Diemar et al. (2009). Two separate solutions were prepared initially. One of them was 1 M Sb5+ solution, prepared by mixing deionized water and KSb(OH)6. The suspension was heated on a heating plate at ≈ 60 ∘C until most of the solid dissolved. The undissolved residue was separated by decantation. The other solution was 0.1 M Mg2+, prepared by mixing of deionized water and MgCl2⋅6H2O. The two solutions were mixed, resulting in the immediate formation of a white precipitate. The suspension was allowed to stand at room temperature for 2 months and then filtered and washed several times by deionized water. The filtrate consisted of euhedral crystals of Mg[Sb(OH)6]2⋅6H2O and white, powdery aggregates of an unknown phase, perhaps of the same composition. The crystals were up to 1 mm in size and were separated from the rest of the sample under a binocular microscope.
MgSb2O6 was prepared from Mg[Sb(OH)6]2⋅6H2O by heating at 1000 ∘C for 1 h. The crystals of Mg(Sb(OH)6)2⋅6H2O were placed into a platinum crucible, covered by a platinum lid and heated in air. The resulting sample was powdery and grayish.
A natural sample of chapmanite, nominally Fe2Sb(Si2O5)O3(OH), used in this work originated from the Pezinok Sb deposit in Slovakia (Polák, 1983, 1988). The sample consisted of a coating of powdery greenish-yellow crusts of chapmanite on dark gray quartz with sparse tiny pyrite crystals. The crusts were scraped of the specimens and separated by a standard protocol for clay mineral separation. Briefly, 20 g of the sample under 0.16 mm (after grinding) was mixed with 300 mL distilled water in a beaker. Afterwards, 3–4 mL of 0.1 M solution of sodium hexametaphosphate were added, the suspension was ultrasonicated for 5 min, the volume added up to 2 L in a cylinder. After 24 h, the water column was removed with a suction pump and the sediment at the bottom discarded. The suspension from the suction pump was transferred into a beaker, and a few drops of 15 % HCl were added to coagulate the clay particles. After coagulation, water was removed with the suction pump and discarded. The slurry was transferred onto a thin plastic sheet and dried at 50 ∘C. Further treatment, owing to the analytical results, is described below.
Powder X-ray diffraction (PXRD) patterns of all minerals and reference compounds were collected using a Bruker D8 Advance DaVinci diffractometer employing Cu Kα radiation (λ=1.54058 Å). The patterns were collected at room temperature between 5 and 90 ∘C 2θ, with a step size of 0.02∘ 2θ and a time per step of 1 s. Lattice parameters and quantitative fractions of the studied phases were refined by a full-profile fit using the software suite JANA2006 (Petříček et al., 2014).
Thermogravimetric (TG) and differential thermal analysis (DTA) of chapmanite was done with a TG 92 Setaram TG/DTA instrument. The samples were heated from room temperature up to 900 ∘C in a flow of argon at a heating rate of 10 ∘C min−1. Thermogravimetric (TG) analysis of synthetic Sb2O5 was performed with a Labsys Evo instrument from room temperature to 600 ∘C. Heating rate was 10 ∘C min−1, and the measurement was done in flowing air.
The quantitative chemical composition of chapmanite was determined by electron microprobe using a JEOL JXA-8230. The operating conditions were set to an accelerating voltage of 15 kV, a beam current of 5 nA, and a beam diameter between 5 and 10 µm. The wavelength-dispersive X-ray spectrometers were used to measure the elements and X-ray emission lines of Al, Mg, Si, Ca, K, P, S, Fe, Mn (Kα), and Sb (Lα). To improve the count-rate statistics, the counting times were 40 s. The standard specimens used for calibration were Al2O3 for Al, wollastonite for Si and Ca, MgO for Mg, celestine for S, InSb for Sb, orthoclase for K, apatite for P, hematite for Fe, and rhodonite for Mn. Peak overlap correction was used to avoid interference between the lines of Sb and K. The detection limits, calculated from the peak and background counts, the measurement time, the beam current, and the standard material concentration, are 0.07 wt % for Si, Ca, Mg, and Mn; 0.08 wt % for Fe and Al; 0.09 wt % for P and S; 0.11 wt % for K; and 0.20 wt % for Sb.
Morphological characterization of the chapmanite sample was performed using a Carl Zeiss ULTRA Plus FEG scanning electron microscope (SEM) operating with an acceleration voltage of 20 kV. Selected crystals were analyzed by energy-dispersive X-ray (EDX) analysis.
A portion of the sample was brought into solution by total digestion in a microwave in a mixture of HNO3, HClO4, and HF. The concentration of selected elements was measured by inductively coupled plasma mass spectrometry (ICP-MS). The instrument used was Thermo Fisher Scientific.
High-temperature oxide melt solution calorimetry has been described in detail by Navrotsky (1997, 2014). The experiments were performed at 1073 K in both lead borate (2PbO ⋅ B2O3) and sodium molybdate (3Na2O ⋅ 4MoO3) solvents. Oxygen gas was flushed over the solvent at 90 mL min−1 and bubbled through it at 5 mL min−1.
Low-temperature heat capacity (Cp) was measured by relaxation calorimetry using a commercial Physical Properties Measurement System (PPMS, from Quantum Design, San Diego, California) at the University of Salzburg, Austria. With due care, accuracy can be within 1 % at 5 to 300 K and 5 % at 0.7 to 5 K (Dachs and Bertoldi, 2005; Kennedy et al., 2007). The powdered samples were wrapped in a thin Al foil and compressed to produce a ≈ 0.5 mm thick pellet, which was then placed onto the sample platform of the calorimeter for measurement. Differential scanning calorimetry (DSC) was used to measure heat capacities near and above room temperature using a Perkin Elmer Diamond DSC. Details of the method are described by Benisek et al. (2012). The entropy was calculated by integration of the function in the interval from 0 to 298.15 K.
4
 Crystal structure of chapmanite
Is chapmanite a sink of antimony in the environment? The neoformation of chapmanite is limited to a specific environment and is probably kinetically hindered. It requires an Sb-rich, disordered precursor and persistence of conditions that stabilize both Fe3+ and Sb3+ over longer times. Thermodynamic data suggest that chapmanite is finely balanced in its stability with tripuhyite and schafarzikite under a narrow range of conditions when ferric (Fe3+) and antimonous (Sb3+) species predominate.
On the other hand, Sb3+ can be adsorbed onto Fe-rich sheet silicates in a similar fashion as in chapmanite. This process can continue up to the formation of a monolayer of chapmanite-like arrangement but operates only on the outer surfaces of the sheet-silicate particles. Hence, chapmanite itself is rare, but chapmanite-like arrangements can be common. Identical arrangement in sheet silicates is observed for Bi3+ in bismutoferrite (Milton et al., 1958; Zhukhlistov and Zvyagin, 1977; Środek et al., 2019). Similar position was observed for As3+ in the structures of Mn-dominated sheet silicates schallerite and nelenite (e.g., Kato and Watanabe, 1991).
The attachment of Sb3+ to the dioctahedral sheets in chapmanite can be described as a tridentate-hexanuclear complex on a local scale. Such complexes have been detected for As3+ on the surface of iron oxides such as maghemite (Auffan et al., 2008) or magnetite (Liu et al., 2015). On the other hand, Ilgen and Trainor (2012) found mostly bidentate Sb3+ complexes on the reactive edges of kaolinite and nontronite particles. It has to be noted that the duration of these experiments was only short, thus representing only the initial, short-term interactions. They also found evidence for polynuclear clusters, interpreted as incipient surface precipitation. In river sediments, Sb is associated mostly with Fe and Al substances (Brannon and Patrick, 1985), confirmed by experimental studies of Sb3+ removal from solutions by oxides of Mn, Al, and Fe (e.g., Thanabalasingam and Pickering, 1990). Although the detrital clay particles are relatively large and Al-dominated, neoformed clays are commonly nanosized and Fe-rich, formed either inorganically or through the action of microorganisms (Farmer et al., 1991; Konhauser et al., 1993). They could adsorb Sb3+ in the tridentate-hexanuclear fashion, thus exposing their chapmanite-like surfaces to the aqueous environment around them.
XRD traces and Rietveld refinement. Protocols with all thermodynamic data for the studied phases. Starting composition of the solution for the forward model. All data sets available in Supplement.
JM initiated the project, provided its concept, reduced the data, calculated all thermodynamic quantities and models, and wrote the paper. JM and SK synthesized and characterized the studied phases. KL, TS, and AN carried out high-temperature oxide melt solution calorimetry. ED and AB carried out relaxation and differential scanning calorimetry.
The authors declare that they have no conflict of interest.
We are thankful to Jiří Sejkora, an anonymous reviewer, and the editor Carlos Rodriguez-Navarro for the constructive criticism that improved the paper. Special thanks goes to Martin  Chovan for providing the natural chapmanite sample. The work presented here was financially supported by a Deutsche Forschungsgemeinschaft grant (MA 3927/32-1). Oxide melt solution calorimetry was supported by the U.S. Department of Energy Office of Basic Energy Sciences, under grant DE-FG02-97ER14749.
This research has been supported by the Deutsche Forschungsgemeinschaft (grant no. MA 3927/32-1) and the Department of Energy, Labor and Economic Growth (grant no. DE-FG02-97ER14749).
This paper was edited by Bruno Lanson and reviewed by Jiří Sejkora and one anonymous referee.
Abramchuk, M., Lilova, K., Subramani, T., Yoo, R., and Navrotsky, A.: Development of high-temperature oxide melt solution calorimetry for p-block element containing materials, J. Mater. Res., 35, 2239–2246, 2020. a, b, c, d
Amador, J., Gutierrez-Puebla, E., Monge, M. A., Rasines, I., and Ruiz-Valero, C.: Diantimony tetraoxides revisited, Inorg. Chem., 27, 1367–1370, 1988. a
Aspiala, M., Sukhomlinov, D., and Taskinen, P.: Determination of standard thermodynamic properties of Sb2O3 by a solid-oxide electrolyte EMF technique, Solid State Ionics, 265, 80–84, 2014. a
Auffan, M., Rose, J., Proux, O., Borschneck, D., Masion, A., Chaurand, P., Hazemann, J.-L., Chaneac, C., Jolivet, J.-P., Wiesner, M. R., van Geen, A., and Bottero, J.-Y.: Enhanced adsorption of arsenic onto maghemites nanoparticles: As(III) as a probe of the surface structure and heterogeneity, Langmuir, 24, 3215–3222, 2008. a
Ballirano, P., Maras, A., Marchetti, F., Merlino, S., and Perchiazzi, N.: Rietveld refinement of chapmanite SbFe2Si2O8OH, a TO dioctahedral kaolinite-like mineral, Powder Diffr., 13, 44–49, 1998. a, b, c, d, e, f
Barin, I. and Knacke, O.: Thermochemical properties of inorganic substances, Springer, 1973. a
Barin, I., Knacke, O. and Kubaschewski, O.: Thermochemical properties of inorganic substances, Supplement volume, Springer, https://doi.org/10.1007/978-3-662-02293-1, 1977. a
Benisek, A., Kroll, H., and Dachs, E.: The heat capacity of fayalite at high temperatures, Am. Mineral., 97, 657–660, 2012. a
Biltz, W.: Ueber die Temperaturabhängigkeit der Valenz zwischen Metallen und Sauerstoff, Nachrichten der Königlichen Gesellschaft der Wissenschaften zu Göttingen, Math.-Phys. Klasse, 293–317, 1908. a, b
Brannon, J. and Patrick, W.: Fixation and mobilization of antimony in sediments, Environ. Pollut. B, 9, 107–126, 1985. a
Burton, E. D., Hockmann, K., and Karimian, N.: Antimony sorption to goethite: Effects of Fe(II)-catalyzed recrystallization, ACS Earth Space Chem., 4, 476–487, 2020. a
Byström, A., Hok, B., and Mason, B.: The crystal structure of zinc metantimonate and similar compounds, Arkiv for Kemi, Mineral. Geol., 15, 1–8, 1942. a
Cooke Jr., J. P.: Revision of the atomic weight of antimony, P. Am. Acad. Arts Sci., 13, 1–71, 1877. a
Coughlin, J. P.: Contributions to the data on theoretical metallurgy. XII. Heats and free energies of formation of inorganic oxides, Bulletin 542, United States Bureau of Mines, 84 pp., 1954. a
Dachs, E. and Bertoldi, C.: Precision and accuracy of the heat-pulse calorimetric technique: low-temperature heat capacities of milligram-sized synthetic mineral samples, Eur. J. Mineral., 17, 251–261, 2005. a
Diemar, G. A., Filella, M., Leverett, P., and Williams, P. A.: Dispersion of antimony from oxidizing ore deposits, Pure Appl. Chem., 81, 1547–1553, 2009. a, b, c, d, e, f, g
Farmer, V. C., Krishnamurti, G. S. R., and Huang, P. M.: Synthetic allophane and layer-silicate formation in SiO2-Al2O3-FeO-Fe2O3-MgO-H2O systems at 23 ∘C and 89 ∘C in a calcareous environment, Clays Clay Miner., 39, 561–570, 1991. a
Filella, M. and May, P. M.: Computer simulation of the low-molecular-weight inorganic species distribution of antimony(III) and antimony(V) in natural waters, Geochim. Cosmochim. Acta, 67, 4013–4031, 2003. a, b
Friedrich, A., Wildner, M., Tillmanns, E., and Merz, P. L.: Crystal chemistry of the new mineral brandholzite, Mg(H2O)6[Sb(OH)6]2, and of the synthetic analogues M2+(H2O)6[Sb(OH)6]2 (M2+ = Mg, Co), Am. Mineral., 85, 593–599, 2000. a
Glushko, V. P., Medvedev, V. A., Bergman, G. A., Vasilev, B. P., Gurvich, L. V., Alekseev, V. I., Kolesov, V. P., Yungman, V. S., Ioffe, N. T., Vorabev, A. F., Reznitskii, L. A., Khodakovskii, I. L., Smirnova, N. L., Galchenko, G. L., and Baibuz, V. F.: Thermicheskie konstanti veshtestv, Academy of Science, UDSSR, 1972. a, b
Gribchenkova, N. A., Steblevskii, A. V., Meshkov, L. L., Alikhanyan, A. S., and Nipan, G. D.: The standard enthalpies of formation of mixed antimony and bismuth oxides, Chem. Thermod. Thermoch., 83, 713–716, 2009. a
Harder, H.: Nontronite synthesis at low temperatures, Chem. Geol., 18, 169–180, 1976. a
Ilgen, A. G. and Trainor, T. P.: Sb(III) and Sb(V) sorption onto Al-rich phases. Hydrous Al oxide and the clay minerals kaolinite KGa-1b and oxidized and reduced nontronite NAu-1, Environ. Sci. Technol., 46, 843–851, 2012. a
Kasenov, B. K., Mukhanova, M. A., Kasenova, S. B., and Mustafin, E. S.: The thermodynamic properties of the alkaline-earth metal antimonates, Russ. J. Phys. Chem., 70, 18–20, 1996. a
Kato, T. and Watanabe, I.: The crystal structures of schallerite and friedelite, Yamaguchi University, College of Arts Bull., 26, 51–63, 1991. a
Kennedy, C. A., Stancescu, M., Marriott, R. A., and White, M. A.: Recommendations for accurate heat capacity measurements using a Quantum Design physical property measurement system, Cryogenics, 47, 107–112, 2007. a
Knauth, P. and Schwitzgebel, G.: E.M.F. and calorimetric investigations of antimony oxides, Berich. Bunsen. Phys. Chem., 92, 32–35, 1988. a, b
Konhauser, K. O., Fyfe, W. S., Ferric, F. G., and Beveridge, T. J.: Metal sorption and mineral precipitation by bacteria in two Amazonian river systems, Rio Solimões and Rio Negro, Geology, 21, 1103–1106, 1993. a
Konopik, N. and Zwiauer, J.: Über Antimontetroxyd. (Löslichkeit; Oxydationsstufen in Lösung), Monatshefte für Chemie und verwandte Teile anderer Wissenschaften, 83, 189–196, 1952. a, b
Kovalenko, L. Yu., Yaroshenko, F. A., Burmistrov, V. A., Isaeva, T. N., and Galimov, D. M.: Thermolysis of hydrated antimony pentoxide, Inorg. Mat., 55, 586–592, 2019. a, b
Kubaschewski, O. and Evans, E. L.: Metallurgical Thermochemistry, 3rd edn., Pergamon Press, 1958. a
Leverett, P., Reynolds, J. K., Roper, A. J., and Williams, P. A.: Tripuhyite and schafarzikite: two of the ultimate sinks for antimony in the natural environment, Mineral. Mag., 76, 891–902, 2012. a, b, c
Lilova, K., Sharma, G., Hayun, S., Shoemaker, D. P., and Navrotsky, A.: Thermodynamics of ZnxMn3−xO4 and Mg1−zCuzCr2O4 spinel solid solutions, J. Mat. Res., 34, 3305–3311, https://doi.org/10.1557/jmr.2019.196, 2019. a
Liu, C. H., Chuang, Y.-H., Chen, T.-Y., Tian, Y., Li, H., Wang, M.-K., and Zhang, W.: Mechanism of arsenic adsorption on magnetite nanoparticles from water: Thermodynamic and spectroscopic studies, Environ. Sci. Technol., 49, 7726–7734, 2015. a
Maier, C. G.: Thermodynamic data on some metallurgically important compounds of lead and the antimony-group metals and their application, Rep. Inv., United States Bureau of Mines, 1934. a
Majzlan, J., Števko, M., and Lánczos, T.: Soluble secondary minerals of antimony in Pezinok and Kremnica (Slovakia) and the question of mobility or immobility of antimony in mine waters, Environ. Chem., 13, 927–935, https://doi.org/10.1071/EN16013, 2016. a, b
Majzlan, J.: Solution calorimetry on minerals related to acid mine drainage – methodology, checks, and balances, Acta Geol. Slov., 9, 171–183, 2017. a
Majzlan, J.: Processes of metastable-mineral formation in oxidation zones and mine wastes, Mineral. Mag., 84, 367–375, 2020. a
Majzlan, J.: Primary and secondary minerals of antimony, in: Antimony, edited by: Filella, M., De Gruyter, https://doi.org/10.1515/9783110668711-002, 2021. a, b
Milton, C., Axelrod, J. M., and Ingram, B.: Bismutoferrite, chapmanite, and "hypochlorite", Am. Mineral., 43, 656–670, 1958. a, b, c
Mixter, W. G.: The heat of formation of trisodium orthophosphate, trisodium orthoarsenate, the oxides of antimony, bismuth trioxide; and fourth paper on the heat of combination of acidic oxides with sodium oxide, Am. J. Sci., 28, 103–111, 1909. a, b
Navrotsky, A.: Progress and new directions in high temperature calorimetry revisited, Phys. Chem. Min., 24, 222–241, 1997. a
Navrotsky, A.: Progress and new directions in calorimetry: A 2014 perspective, J. Am. Ceram. Soc., 97, 3349–3359, 2014. a, b, c
Nekrasov, I. Ya.: Geochemistry, Mineralogy and Genesis of Gold Deposits, CRC Press, 2009. a, b
Pauliš, P., Dolníček, Z., Vrtiška, L., Pour, O., Žák, K., Ackerman, L., Veselovský, F., Pašava, J., Kadlec, T., and Malíková, R. Mineralogy of the stibnite deposit at Chříč near Rakovník (Czech Republic), Bull. Mineral. Petr., 27, 148–166, 2019 (in Czech). a
Périchaud, J.-J. and Pierrot, R.: La chapmanite de La Bessade (Haute-Loire), B. Soc. fr. Minér. Cristall. 88, 294–299, 1965. a
Petříček, V., Dušek, M., and Palatinus, L.: Crystallographic Computing System JANA2006: General features, Z. Kristall., 5, 345–352, 2014. a
Polák, S.: Chapmanite from Pezinok, Miner. Slov., 15, 565–566, 1983 (in Slovak). a
Polák, S.: Once again on chapmanite from Pezinok, Miner. Slov., 20, 475–476, 1988 (in Slovak). a, b, c
Robie, R. A. and Hemingway, B. S.: Thermodynamic properties of minerals and related substances at 298.15 K and 1 bar (105 Pascals) pressure and at higher temperatures, U.S. Geol. Survey Bull., 2131, 461 pp., 1995. a, b, c, d
Roper, A. J., Leverett, P., Murphy, T. D., and Williams, P. A.: Stabilities of byströmite, MgSb2O6, ordoñezite, ZnSb2O6 and rosiaite, PbSb2O6, and their possible roles in limiting antimony mobility in the supergene zone, Mineral. Mag., 79, 537–544, 2015. a, b, c, d, e, f
Rossini, F. D., Wagman, D. D., Evans, W. H., Levine, S., and Jaffe, I.: Selected values of chemical thermodynamic properties, Circ. Nat. Bureau Stand., 500 pp., 1952. a, b
Schwarzmann, E., Rumpel, H., and Berndt, W.: Synthese von Diantimonpentoxid Sb2O5, Z. Naturf. B, 32, 617–618, 1977. a
Sejkora, J., Ozdín, D., Vitálos, J., Tuček, P., Čejka, J., and Ďuďa, R.: Schafarzikite from the type locality Pernek (Malé Karpaty Mountains, Slovak Republic) revisited, Eur. J. Mineral., 19, 419–427, 2007. a
Simon, A. and Thaler, E.: Beiträge zur Kenntnis von Oxyden. Zur Kenntnis der Oxyde des Antimons, Z. Anorg. Chem., 162, 253–278, 1927. a, b
Środek, D., Encheva, S., Petrov, P., Gospodinov, N., and Galuskina, I.: Clinobisvanite and bismutoferrite from the village of Boyadzhik area, Yambol Region – new minerals for Bulgaria, Rev. Bulg. Geol. Soc., 80, 42–44, 2019. a
Stewart, D. J., Knop, O., Ayasse, C., and Woodhams, F. W. D.: Pyrochlores. VII. The oxides of antimony: an X-ray and Mössbauer study, Can. J. Chem., 50, 690–700, 1972. a
Thanabalasingam, P. and Pickering, W.: Specific sorption of antimony (III) by the hydrous oxides of Mn, Fe, and Al, Water Air Soil Pollut., 49, 175–185, 1990. a
Verryn, S. M. C. and Meulenbeeld, P. M. P. B: A new locality for Chapmanite (Sb(OH)Fe2(SiO4)2) at a lead-silver-zinc deposit near Argent Station, Mpumalanga, South Africa, Neues Jb. Mineral. Monat., 85–90, 2000. a
Wagman, D. D., Evans, W. H., Halow, I., Parker, V. B., Bailey, S. M., and Schumm, R. H.: Selected values of chemical thermodynamic properties Part 1. Tables for the first twenty-three elements in the standard order of arrangement, Nat. Bureau Stand., Techn. Note 270-1, 1965. a
Wagman, D. D., Evans, W. H., Parker, V. B., Schumm, R. H., Halow, I., Bailey, S. M., Churney, K. L., and Nuttall, R. L.: The NBS tables of chemical thermodynamic properties. Selected values for inorganic and C1 and C2 organic substances in SI units, J. Phys. Chem. Ref. Data, 11, 407 pp., 1982.  a
Walker, T. L.: Chapmanite, a new mineral from South Lorraine, Ontario. Univ. of Toronto Studies, Geol. Ser. 17, 5–8, 1924. a
Whitten, A. E., Dittrich, B., Spackman, M. A., Turner, P., and Brown, T. C.: Charge density analysis of two polymorphs of antimony(III) oxide, Dalton Trans., 23–29, 2004. a
Zhukhlistov, A. P. and Zvyagin, B. B.: Determination of the crystal structures of chapmanite and bismuthoferrite by high-voltage electron diffraction, Kristallografiya, 22, 731–738, 1977. a, b, c, d, e